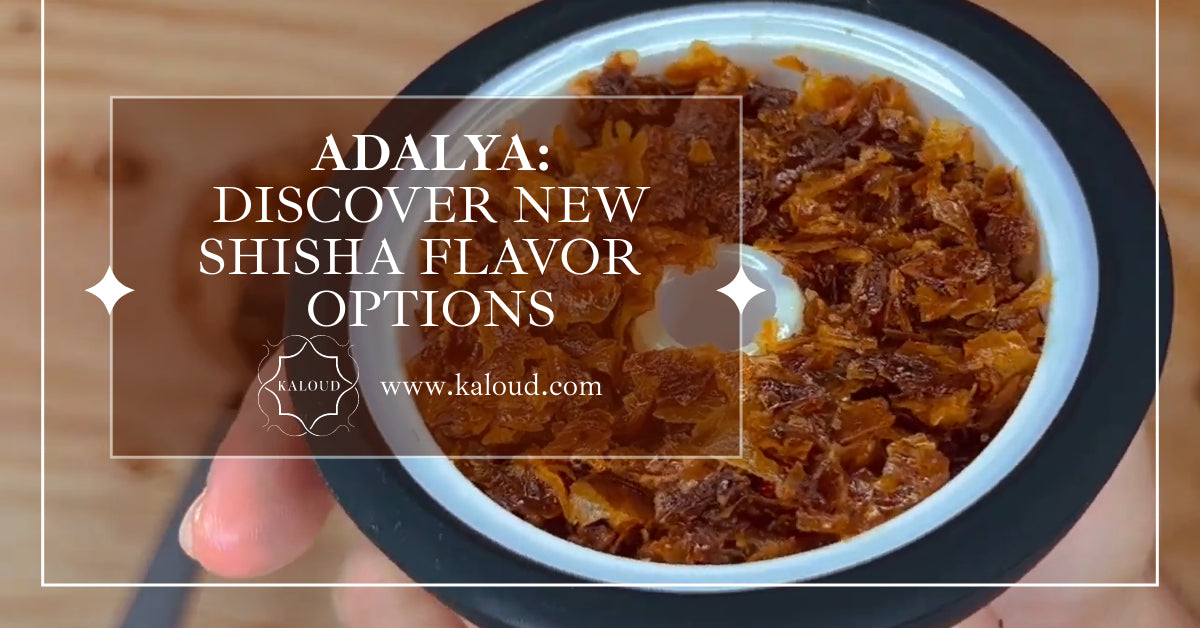 Adalya: Discover New Shisha Flavor Options
Do you love trying new things? How about new flavors of shisha? At Adalya, they offer a variety of hookah flavors for you to enjoy. In this blog post, we will discuss the different flavors, how to pick the best one for you, and how to pack your bowl. We also have a few recommendations for our favorite flavors!
What is Adalya?
Adalya is a shisha brand originated by the largest hookah tobacco producer in Turkey. The company has been around since 2003 and has been making high-quality shisha since day one. Adalya is one of the most popular shisha brands in the market, and for good reason.
Their expansive flavor lineup features something for everyone, from classic fruity blends to creative concoctions like "Coconut" and "Green Lemon Mint." So, if you're looking for a delicious and reliable shisha, try Adalya - you won't be disappointed.
What are Adalya shisha flavors?
Adalya shisha flavors are some of the most popular in the market. With a wide range of fruit, candy, and tobacco flavors to choose from, Adalya has something for everyone.
Some of the best Adalya shisha tobacco we tried with our Kaloud Samsaris bowls are black cherry, freshberry, cinnamon, grape lemon, and tangerine. Besides these, some of the most known and innovative flavors are ice apple and love 66.
What do they taste like?
Black cherry is one of the most popular, and for good reason. We tried it with our Kaloud Samsaris aluminum 3 bowl and the combination was fantastic. The shisha was very juicy and had a great smell. The flavor was spot on, not too sweet and not too tart.
Freshberry is a wonderful blend of flavors like cranberry and raspberry. It has an excellent taste that is perfect for those who enjoy fruity flavors. The smoke is dense and weaves easily through the air, making it perfect for social gatherings or relaxing moments alone.
Cinnamon has an intense smoke, a long burning time, and an excellent taste. The intense aroma of cinnamon is waiting for you to consume it alone or with mixtures according to your preference. When packing a Samsaris Vitria with this tobacco, use a little less than normal, as the flavor is quite strong.
Grape lemon is a refreshing and enjoyable combination of sweet and sour flavors. The grapefruit provides a tart and tangy note that is offset by the sweetness of the lemon. This shisha flavor is perfect for those who enjoy a refreshing and flavorful smoke.
Tangerine is a citrusy shisha flavor that is perfect for those who enjoy the refreshing taste of oranges. We tried it with the Kaloud Lapis bowl. The flavor was very well balanced and we enjoyed it a lot. The smoke was dense and had a great smell, making it perfect for social gatherings.
Ice apple tobacco is what's known as "smooth," and it has a nice aftertaste. It contains the exciting flavor of apple, and the ice helps to cool and refresh the smoke.
Love 66 is made with mixed aromas that create a passion for taste. When inhaling, you will enjoy the smooth flavors of roses and jasmine. These floral notes are perfectly balanced with the sweetness of honey and apricot. Do you want to learn how to pack Adalya Love 66? Check out the article "Adalya Love 66 Flavor Embrace Your Passion
How to pick the best Adalya flavor for you?
Now that we've gone over some of the best Adalya flavors, how do you pick the right one for you?
The first step is to decide what type of flavors you like. Do you prefer fruity, candy, or tobacco flavors? Once you've decided on a general flavor profile, you can start narrowing down your options.
If you're looking for a classic flavor, we recommend black cherry or grape lemon. If you want something a little more unique, try ice apple or love 66.
Once you've decided on a flavor, the next step is to find a good Adalya dealer. You can find Adalya tobacco at most online retailers, but we recommend buying from a reputable source.
Once you've found a good dealer, it's time to smoke! Adalya tobacco is best smoked in a clay bowl with natural charcoal.
If you're new to smoking hookah shisha, we recommend starting with a bowl like the Kaloud Samsaris Lapis. This will help you get a feel for the flavor and nicotine content.
How to pack your bowl for the perfect smoke?
Now that you've decided on a flavor and found a superb source, it's time to learn how to pack your bowl.
The first step is to add a layer of hookah tobacco to the Kaloud hookah bowl. You can do this by gently pressing the shisha tobacco into the hookah bowl with your fingers.
Once you've added a layer of tobacco, it's time to add the charcoal. We recommend using natural charcoal for the best flavor.
If you're using a Kaloud Samsaris bowl, we recommend adding two pieces of charcoal. Once you've added the charcoal, it's time to put the lid on the hookah bowl and let it heat up.
Once the charcoal is heated, it's time to smoke! Take your time and enjoy the flavor of Adalya tobacco.
Our favorite Adalya flavors
We've gone over some of our favorite Adalya flavors using Kaloud Samsaris, but what are our absolute favorites?
Our top three Adalya flavors are black cherry, grape lemon, and ice apple. We love these flavors because they're classic hookah flavors that are perfect for any occasion.
If you're looking for something a little different, we also recommend love 66. This flavor is perfect for those who want a unique and captivating smoking experience.
If you wan to discover more Adalya flavors, check out the article "The Best Adalya Flavors To Try With Your Krysalis Calix!".
No matter what flavor you choose, we're sure you'll enjoy the hookah tobacco as long as you pair it with natural charcoal and a great hookah bowl.
How to store your Adalya tobacco?
Once you've opened your tin of Adalya tobacco, it's important to store it properly to keep the flavors fresh.
The best way to store Adalya tobacco is in an airtight container. We recommend using a mason jar or a Tupperware container.
Once you've stored your tobacco in an airtight container, be sure to keep it in a cool and dark place.
If you follow these storage tips, your hookah tobacco will stay fresh for months.
We hope you enjoyed this blog post about Adalya tobacco. If you have questions, feel free to leave a comment below. Thanks for reading!