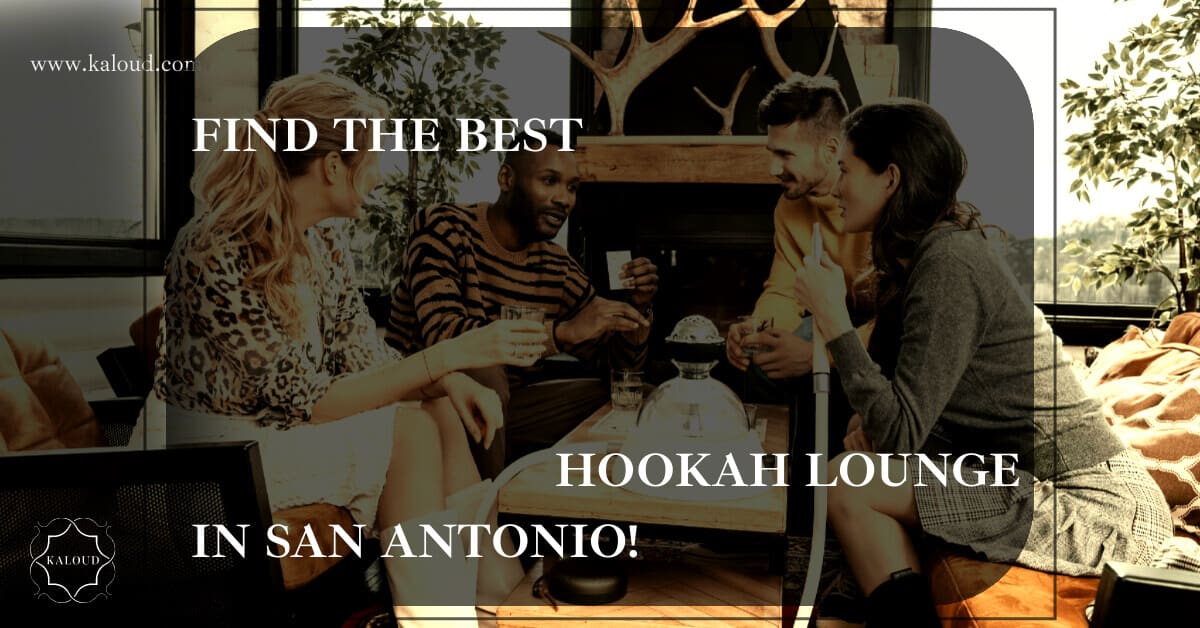 Find The Best Hookah Lounge In San Antonio!
Looking for a hookah lounge in San Antonio? Look no further! We have compiled a list of the best hookah lounges in town so that you can relax and enjoy some good smoking fun. Whether you are looking for a place to hang out with friends or just want to take some time out for yourself, these hookah lounges will not disappoint. So, what are you waiting for? Check them out today!
Why visit a hookah lounge in San Antonio?
If you're looking for an escape from the hustle and bustle of city life, hookah bars and lounges are a great way to relax and unwind. Not only that, but hookah lounges can also be fun places to socialize with friends or just kick back in a chill atmosphere. Plus, hookahs come in all kinds of sizes, shapes, and styles so you can find one to fit any vibe or preference.
As hookah lounges offer a relaxing and unique experience, hookah lounges in San Antonio are no exception. Whether you're searching for a chill vibe or an exciting hookah lounge experience, you better get prepared for what to expect when you visit a hookah lounge. Therefore, you better check out the blog post "Hookah Lounges: What To Expect When You Visit One Of Them?".
Once you are ready to explore hookah lounges in San Antonio, here are five of the best hookah lounges you should visit:
Cloud 9 Vapes & Hookah Lounge
Are you looking for a hookah lounge that provides an atmosphere of comfort and ease? Cloud 9 Vapes & Hookah Lounge is your perfect destination! Escape the hustle and bustle of everyday life at Cloud 9 Vapes & Hookah Lounge; a cozy sanctuary perfect for unwinding with friends. Enjoy hookahs on plush couches, all while being taken care of by our friendly staff.
Not only does Cloud 9 Vapes & Hookah Lounge have an exquisite and inviting ambiance, but they also offer a wide selection of hookahs and tobacco flavors to choose from as well as numerous non-alcoholic drinks. According to 180 Google reviewers, this spot is ideal for chilling, enjoying great music, and hanging out with friends. Plus, you can get a private hookah room for a reasonable price.
Are you in the market for a 4-star hookah lounge with an inviting atmosphere, located in San Antonio? Look no further than Cloud 9 Vapes & Hookah Lounge - serenity awaits!
Stop by the establishment at 4419 De Zavala Rd San Antonio, TX 78249 and experience their amazing services any day of the week between 2pm and 1am!
Naara Cafe and Hookah
Offering the perfect blend of modern and classic ambiance, Naara Cafe and Hookah is your go-to spot to relish in a hookah experience with style. Immerse yourself in a world of exotic flavors and aromas at this lounge, where you can choose from a variety of hookahs, tobacco blends, Middle Eastern food and drinks.
According to the 1500 Google reviewers that have visited Naara Cafe and Hookah, it is an ideal place for hookah enthusiasts that want to enjoy hookah flavorful coffee in a trendy atmosphere. Plus, their hookah experts will help you find the perfect hookah for your smoking pleasure!
Are you seeking a 4-star Yelp rated hookah lounge that is furnished with the friendly decor of  San Antonio? Then Naara Cafe and Hookah fits the bill!
For an unforgettable experience, visit Naara Cafe and Hookah at 9329 Wurzbach Rd Ste 101 San Antonio, TX 78240. Open Monday through Sunday from 11am-1am, you won't want to miss out on this one!
7 Sky Bar & Lounge
7 Sky Bar & Lounge is the ideal destination for a truly immersive hookah experience in San Antonio. Featuring an array of hookahs, tobacco flavors, and drinks at great prices, this lounge has earned rave reviews from customers across the city. Experience why 7 Sky Bar & Lounge is one of the best places to enjoy shisha in town!
If you're looking for an atmosphere that feels like home and a hookah experience to remember, look no further than 7 Sky Bar & Lounge in San Antonio. With its 4-star Yelp rating, this is the place to be!
Take a journey to the 7 Sky Bar & Lounge at 3726 NW Loop 410 San Antonio, TX 78229 and offer yourself a night out that you won't forget. Open seven days a week between 6pm and 2am. This hookah bar is ready to make your night one to remember.
Shisha Cafe
Shisha Cafe is a cafe hookah lounge located in San Antonio that offers hookah fans an atmosphere of comfort and entertainment. The hookah lounge offers hookah in a range of flavors. You may also enjoy their delicious Eastern food and drinks for a full hookah experience.
Shisha Cafe has earned a 4-star rating on Yelp for its hookah experience and atmosphere, which makes it a great hookah destination for hookah enthusiasts in San Antonio. Whether you're looking to relax and smoke hookah with friends or just hang out, Shisha Cafe is a great place to go.
For hookah in San Antonio, visit Shisha Cafe at 5500 Babcock Rd Ste 101 San Antonio, TX 78240. Visit Shisha Cafe any day of the week between 11am and 1am to experience hookah in a great chilling atmosphere indoors and outdoors!
Hookah Harem
Hookah Harem is a super chill spot for hookah admirers alike in San Antonio. From the moment you walk in, you can feel the laid back atmosphere, plus, it's approved for laptops so you can get anything done while enjoying some of the best hookah out there.
The prices are reasonable, and their customer service is top notch. Visiting Hookah Harem is the perfect way to socially distance in style! Their attentive staff, incredible atmosphere and amiable owner have earned them 4.5 stars on Yelp as they always ensure their customers' time at their spot will be unforgettable. Plus, they offer our very own Kaloud Lotus HMD, so you can enjoy a less harmful hookah experience.
Don't let this incredible opportunity pass you by. Join Hookah Harem at 6862 Ingram Rd San Antonio, TX 78238 from 7pm to 2am daily and start exploring the hookah world!
Is it difficult for you to have a good time in a hookah lounge in San Antonio?
Locating the perfect hookah lounge in San Antonio can be a tough mission. Whether it's chill vibes or swanky modernity that you seek, sometimes, you're just looking to enjoy an amazing hookah experience from your own home!
Don't let the seemingly laborious process of enjoying a hookah session in San Antonio keeps you from indulging your inner passion!
Why not create a hookah haven in your home, and gather around with friends to share the experience?
Looking for an ideal way to relax and enjoy quality time together? Put your worries aside! At Kaloud, we've got you covered with the finest hookah products for an unforgettable experience. We provide all the necessary accessories, hookah bowls, HMDs, hookah tongs and more, so that you can sit back anywhere in San Antonio or even your own home knowing that only top-notch products are being used. Let us make it easy. Let us help you find the perfect hookah!
Experience the perfect hookah session today with all the items you need from our online store! Shop now and get ready to relax.